Divided We Fall?
A Theatre Project in Leith creating a space to explore Identity, Diversity and Integration.
Download the flyer here
Download the programme here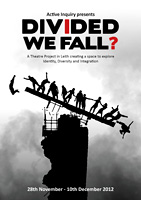 Living Together in Difficult Times
We live in a diverse society in terms of ethnicity, class, ability and many other factors? But what do Identity, Diversity and Integration really mean? How can diverse communities such as Leith find ways to develop interconnections and build solidarity especially in the context of cuts to public services, the Welfare Reform Act and other divisive policies and influences from above?
Over the past three months a group of Leith residents and visitors have been working with Active Inquiry to develop pieces of Forum Theatre exploring these questions for this event. Forum Theatre encourages an audience to become involved by enabling them to change the action onstage!
We hope to encourage as many people as possible from many diverse groups to attend this event and enjoy the performances, food, music, exhibitions and workshops to help develop an Action Plan for moving forward.
Highlights over the two days include:
Forum Theatre performances by local people
Debates and Action Planning
Jock Tamson's Bairns exhibition and work from local groups
Food from Out of the Blue Café and World Kitchen
Music performances from Edinburgh's Got Soul and Wildfire Choirs and others as part of Out of the Blue's Bruncheon event
Special performance of Hotel Europa – a play exploring the effects of the European crisis with a cast from across Europe including France, Portugal, Spain, Croatia and Germany
When: Saturday 11th and Sunday 12th May 2013
Times: Saturday 11am-7pm, Sunday 12-7pm
Where: The Out of the Blue Drill Hall, 36 Dalmeny Street, Edinburgh, EH6 8RG
Cost: Free! (although donations will be appreciated!)
For catering and room capacity reasons it is essential that people book for this event. Please register and book tickets here. Alternatively you can email dwf@activeinquiry.co.uk with your name and how many tickets you would like. Please let us know if you have any diet or access requirements and we will do our best to meet these. For more information please contact us.
Draft Event Programme:
Saturday 11th May
11.00 – Coffee and Registration
11.15 – Start
11.30 – The Quest - Performance
12.30 – Bruncheon!
14.15 – Who Cares? - Performance
15.30 – Break
16.00 – Divided We Fall? - Performance
18.00 – Social Time and discussion
19.00 – Finish

Sunday 12th May
12.00 – Coffee and Registration
12.30 – Jock Tamson's Bairns and community exhibition launch
13.00 – Share a Plate, Share a Story
14.30 – Creating and Action Plan Workshop
16.30 – Break
17.00 – Hotel Europa
19.00 – Finish
Not For Profit
A Forum Theatre Project in Leith creating a space to explore the causes of and alternatives to the public sector cuts.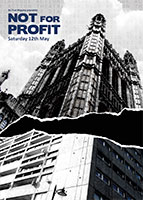 The UK Coalition Government is embarking on a series of huge Public Sector Cuts to save £95 billion and reduce the deficit. Although they like to say that "we are all in this together" the reality is that these cuts are hitting the most vulnerable in society the hardest. How have we got into this mess? Are these cuts necessary or ideological? What can we do to protect our public services?
After a great community event on 12th May we are now in the third stage of this project. This involves finding ways to take the action points raised on this day forward. A report on the day will follow soon. To get involved please contact us.
Other Projects
Below is a list of other projects we are currently working on. Please contact us for more information or to find out how you can get involved.
Being Included – Working with Universities of Strathclyde, Glasgow and Edinburgh and East End Park School in Glasgow we are working with looked after children with disabilities to create a performance to enable them to share their experiences as part of a larger knowledge-exchange programme.
Altrum Risk Research Project – A project working with the University of Stirling and the Thistle Foundation exploring the concept of risk with people with a disability.
Violence Action Research – Working with Shakti to explore the concept of violence with young people from the BME community in North Edinburgh.
Transition - A project working with the Thistle Foundation to enable young people with a disability to explore options, concerns and challenges when moving on from school.
Disability History Scotland - We are working as part of this group to create a programme of events for Disability History Month in November/December 2012.
TOgether - A European project with funding from the EU which will see us working all over Europe throughout 2012 and 2013 and bringing European theatre back to Leith.