Transformation in Faith: Exploring Hopes and Fears
Explore the hopes and fears caused by experiences of religious conversion. Participate in our innovative theatre workshops to explore how families and communities can respond to conversion sensitively. The World Kitchen Team will provide a themed meal following the workshops, where we can discuss food choice, religious identity and conversion. In order create a rich and meaningful event, there will be a mix of people from all faiths and none. Everyone will have experienced, or have an interest in, religious conversion. In order to help us, please register your interest for this event.
Once you have registered you will be sent two short questions to answer to determine your eligibility for attendance and for us to design a workshop that is most suited to all attending. If you can answer these questions as soon as you can, it would be appreciated.
We will get back to you by 15 November 2016 to confirm your place.
No previous theatre experience required but you must be able to attend entire event.
Transformations in faith: exploring hopes and fears is part of the Being Human Festival, the UK's only national festival of the humanities. Theatre workshops designed and run by Gavin Crichton at Edinburgh-based Active Inquiry.
@BeingHumanFest
#BeingHuman16
The festival is led by the School of Advanced Study, University of London, in partnership with the Arts & Humanities Research Council and the British Academy.
To book please go to:
http://transformatonsinfaith.eventbrite.co.uk Password: Transformation
Spect-Act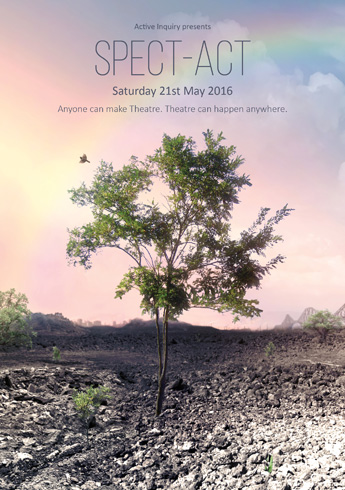 "I want the Spectator to take on the role of Actor and invade the Character and the Stage. I want them to occupy their own space and offer solutions" Augusto Boal
Spect-Act is a two-year project with the goal of developing a network of Theatre of the Oppressed companies in Edinburgh. The techniques of the Theatre of the Oppressed blur the lines between actor and audience and offer a space for dialogue and building knowledge.
Active Inquiry has been working with groups from The Bethany Trust, Shakti Women's Aid and The Alma Project to create unique pieces of theatre exploring issues of relevance to the participants.
Thank you to everyone who came along to our public event on 21st May.
The podcast from this event is now available. For more information about getting involved with Spect-Act please contact us.
InterAct
This on-going project in partnership with The Thistle Foundation has now been funded by the Scottish Government for three years with the aim of rolling the programme out across Scotland. Working in schools across Edinburgh and Midlothian this project uses drama work with disabled young people to explore thoughts, emotions, concerns, opportunities and options in the transition from school.
TOgether
This project brings together Theatre of the Oppressed companies from across Europe for training and sharing of practice. We have also developed an International Play, Hotel Europa [download pdf booklet], which explores the European crisis and the difficulty of challenging neo-liberal capitalism from inside the system. After a successful run as part of the Edinburgh Fringe Festival in August 2016, the next performance of Hotel Europa will be in Barcelona in March 2017.
"Hotel Europa lays bare the truth - we're trapped in something we didn't all choose, but only together can we escape it" Broadway Baby
Read the full 4 star review here