Below are some examples of previous work. Please download our Activity Report for a full list of past projects.
Power to the People?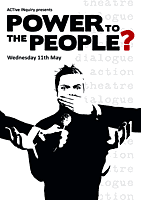 A forum theatre project which explored the tricky concept of empowerment and asked "Is Leith ready to join The Big Society?!"
The first stage of this project, developed through workshops with members of the Leith Community, involved the performance of a piece of theatre which told the story of Alice and her struggles to make positive changes in her community
The second stage enabled audience members from the first stage to create their own pieces of Forum Theatre for a final event on 11th May 2011 which saw more than 40 people come together to explore what action could be taken to truly empower the people of Leith. Read more about the event on our Blog.
Change
A forum theatre project, coinciding with the 2010 General Election, which asked "Can we do more to change things than just voting every 5 years?" After each performance the audience was invited to suggest and vote for the action that would lead to the change they most wanted to see in Leith.
Space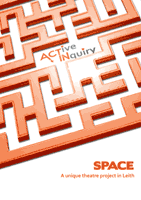 A unique theatre project in the Leith area of Edinburgh which explored people's relationship to the space around them. This involved the development of a piece of Forum Theatre for performances in various venues in Leith. Through workshops with members of the Leith community we developed SPACE, which told the story of Maggie who wanted to save the local green space from being turned into a car park. The play explored the question "What stops people from taking an active stake in public space?"
"I've never seen anything like it! It is such an interesting and dynamic way to explore issues. I really liked how the audience interacted with and influenced the play." Audience member, SPACE
Act Your Age
The pilot project of ACTive INquiry. This project involved working with a group of older people to explore the issue of age discrimination. A piece of Forum Theatre was toured to older people's groups in Edinburgh and a public performance was held at the Gateway Theatre.
"Experiencing the completed project proved to me what a valuable process it is for everyone involved. Seeing people with no experience of drama or theatre engaging with and being energised to the extent of actually taking part themselves in the action was quite uplifting and very satisfying." Participant, Act Your Age